Obsessions, Compulsions & OCD
What are obsessions & compulsions?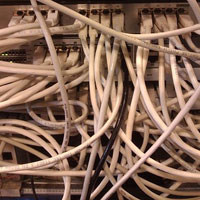 Obsessions and compulsions are often a sign of underlying stress and anxiety. Many people will develop some obsessive or compulsive symptoms when life isn't going so well (tidying, ordering, checking, cleaning, worrying, etc.). These symptoms are the body's way of relieving tension and the mind's way of gaining a sense of control.
Such symptoms can be a useful warning signal that life is out of balance and needs a bit of attention. These will normally respond well to general counselling or psychotherapy that address the underlying stress and anxiety. Often what is most useful is some help to reflect on where you have come from and where you are heading as well as how best to balance the many demands that life makes on us with our needs, hopes and fears.
Obsessive Compulsive Disorder (OCD)
For some others, their symptoms seriously interfere with their ability to function so may be Obsessive Compulsive Disorder (OCD). OCD an anxiety disorder which is thought to occur in approximately 2-3% of the general population. People suffering from OCD experience one or both of the following:
Obsessive, recurring, persistent thoughts, images or impulses that cause marked anxiety or distress
Behaviours or mental acts that the person feels driven to perform repeatedly to alleviate anxiety caused by obsessions
Common examples of obsessions are excessive worrying about causing harm to others physically or sexually, fears about security, hygiene, dreaded events occurring (i.e. house fires, car accidents), blasphemy, or sexual orientation. Common compulsions include checking behaviours, hoarding, hand washing, cleaning or tidying rituals, repetitively asking for reassurance, tapping objects, blinking rituals, excessive showering or teeth brushing, ordering, counting, praying, or repeating words. If sufferers have hygiene fears they may go to extraordinary lengths to avoid touching items they view as dirty or contaminated.
Most people who afflicted with OCD are aware that their symptomatic thoughts and behaviours are 'beyond the norm' and get frustrated with their inability to control them. They may also suffer from a general low mood. The causes of OCD are not definitive but personalities that like order and tidiness and keep their emotions well under control are more vulnerable to developing the illness.