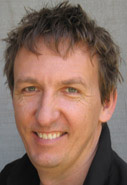 Blair Schulze
B.Arch(Hons), MHSC(Psychotherapy, Hons), Registered Psychotherapist,
Member of NZAP
Grey Lynn: Youthline House, 13 Maidstone St,
Phone: 021 437 080
blairschulze@gmail.com
www.counsellingworks.co.nz
NB : Blair returns to work on 8th Jan 2018.
Statement of Purpose: Blair offers counselling and psychotherapy for individuals using proven methods which are warm, friendly and time effective.
He has over twenty years experience assisting people to modify the way they think, feel, behave and relate to themselves and others. His goal is to assist people to work through emotional difficulties, manage negative thinking patterns, develop effective coping strategies, improve relationships, understand repetitive problems and live their lives to their full potential.
Specialisms: Blair has particular experience and expertise with:
Relationship issues
Sex & pornography addictions
Obsessive Compulsive Disorder (OCD)
Depression
Alcohol & drug addictions
Anxiety (i.e. panic attacks, phobias, social anxiety)
Experience: Over twenty years experience in the counselling / psychotherapy professions. Blair has worked in private practice, at The Mensana Clinic, Youthline and in the public mental health sector (ADHB & WDHB).
Approaches and modalities: Blair has an integrative approach to psychotherapy utilising clinically proven methods such as Mindfulness based Cognitive Behavioural Therapy (CBT), Acceptance & Commitment Therapy (ACT) and (EFT) Couple therapy. He believes that effective psychotherapy needs to be tailored to the individual and should address the emotional, the cognitive, the practical, and the interpersonal aspects of people's lives.
Professional Accreditation: Registered Psychotherapist with PBANZ & MNZAP
Location: Grey Lynn: Afternoon/evening appointments Monday-Friday.
Costs: $160 (for 50 min session). Partial funding of $60 may be available through WINZ if you are a beneficiary or student. Payment is by cash, cheque or online banking.
Enquiries welcome: To make an appointment you can phone or text Blair on 021 437 080 or email him on blairschulze@gmail.com Please leave a detailed message so Blair can respond to you as soon as he is available.