Anger Management
Individual & group programmes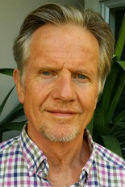 John Bryant offers flexible individual and small group anger management programmes. He has over twenty years of experience working with anger issues and running and supervising anger management courses. He has also run workshops on the underlying causes of anger in men and in the treatment of the devastation that can be caused both to self and in relationships. John is a court approved anger management facilitator and trainer.
Toxic Anger
There are many forms of toxic anger that often mask underlying feelings of fear, grief and shame. Anger can be like 'throwing hot coal at others with bare hands', in other words everyone gets burned. As well as physical violence other attitudes and actions such as aggression, contempt, criticism, blame, defensiveness or withholding love often indicate a problem with anger. Anger can be a burden that greatly inhibits our ability to live a full and contented life.
Our work offers people the opportunity to free themselves of the chains of destructive anger and replace it with vitality, peace, improved relations and a voice of healthy protest if need be.
John uses a mixture of therapeutic interventions, skills based training and current understandings of the underlying causes of anger. He has an MHSc Health Sciences (Psychotherapy), Diploma Psychotherapy, Cert. Advanced Clinical Supervision and is PBANZ registered.
| | |
| --- | --- |
| Fees | Individual programme $200 (per session) |
| | Small group programmes (run on demand, fees determined by size and duration of course) |
| Locations: | Austin Rd, Greenhithe |
| Contact: | To book or to discuss further please contact John by email at johnbryant@actrix.co.nz or phone (0224) 747465. |