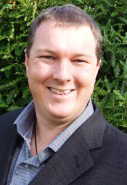 Hamish Brown
Psychodramatist, PG Dip Psychoanalytic Psychotherapy,
Registered Psychotherapist, AANZPA, MBS (Dispute Resolution),
PG Dip Human Resources, BA (Ethics)
Te Atatu Peninsula, West Auckland
hamish@peninsulapsychotherapy.co.nz
Phone: (021) 275 4757
NB: I currently have a few appointments available on Tuesday and Wednesday during the day.
If you are seeking psychotherapy it may be that you want to look more deeply into what gives you a sense of meaning and purpose. It may be that what you have known about living to this point can take you no further. Perhaps you are experiencing difficult emotions and seek relief or maybe it is time to confront the shadows that seemed best avoided until now.
Life is a varied and colourful journey but not all the colours are bright. My work as a psychotherapist is about this journey.
Approaches and modalities: My practice as a counsellor and psychotherapist has its roots in a number of different traditions including Psychodrama, Jungian psychology and psychoanalytic psychotherapy. In long-term psychotherapy you can hope to become clearer and stronger in your sense of who you are and to develop ways to live that feel congruent, creative and potent.
Areas of interest:
relationship issues, couples work
depression, anxiety, stress
sexual issues
trauma and abuse
grief and loss
religious or spirituality issues
personal development
life transitions
Experience: I worked for 12 years of my professional life as a facilitator, mediator and organisational consultant. In this context I consulted to a wide range of organisations from corporate to governmental and not for profit in New Zealand, Australia and further abroad. Over time I became more and more interested in the deep forces at work within and between people that cause creative life-enhancing outcomes in groups or block this. I have been working as a psychotherapist in private practice with Individuals, Couples and Groups since 2002.
Location: Te Atatu Peninsula daytime and some evening appointments available. Plentiful parking.
Fees:
Discounted rates for counselling or psychotherapy students & Community Services Card holders.
Enquiries welcome:
Email: hamish@peninsulapsychotherapy.co.nz
Phone: For further information or an appointment contact me at (021) 275 4757 (leave a message so I can call you back).
Psychodrama workshop and group
I also facilitate psychodrama workshops and groups.
Hamish Brown |Auckland | 021 275 4757