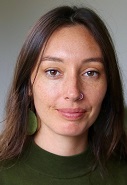 Jasmine Sawyers-Mullen
Registered Child and Adolescent Psychotherapist
Location : West Auckland
Phone : 021-157-6095
Email :
jasmine.sm@icloud.com
NB: My practice is full, so unfortunately I cannot take on new clients at this time.
Welcome : I work therapeutically with children, adolescents, young adults, and whānau with a wide range of concerns including anxiety, depression, trauma, behavioural and emotional difficulties, or with those who are having trouble in relationship, be it with family, peer groups, or romantically.
Approach : My practice is based on psychodynamic psychotherapy and sessions can include a combination of talk therapy, play, sand tray, art, and awareness of the connection between the emotional and physical body. While disharmony manifests in different ways for different people, I work to try and understand the essence of what is causing the symptoms that you, your child, or your whānau may be experiencing to support your return to fulfilling relationships and a meaningful engagement with life.
Registrations & Memberships: PBANZ (Psychotherapists Board of Aotearoa New Zealand), NZACAP (NZ Association of Child and Adolescent Psychotherapists)
To talk further about your needs or to arrange a session please get in touch.
Contact Details : Mobile: 021-157-6095 Email: jasmine.sm@icloud.com