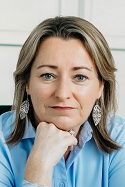 Susan Goldstiver
Registered Psychotherapist, B.A (Education) University of Auckland
Grad Dip Psychosocial Studies, AUT, Master of Health Science (Psychotherapy, Hons) AUT
Kumeu and Online
Phone: 09 8464978 or 021 333021
Email:
susangoldstiver@gmail.com
Web:
postnataldistress.co.nz
NB: I now have limited availability. Please feel welcome to make an enquiry.
Meet Susan: Passionate about guiding others through life and helping them to develop the right toolkit, Susan brings over 14 years experience and a long list of accolades and achievements to her role as a Registered Psychotherapist.
How can Susan help you? Susan offers both short and long term therapy. Whether you're seeking help as an individual or as a couple, Susan can help you with the following, and more:
Relationship, marriage and parenting issues
Trauma and sexual abuse
Anxiety, depression and OCD
Dealing with grief and loss
Postnatal or antenatal depression and anxiety, birth trauma
Any form of psychological distress including suicidal thoughts
Sexuality, sexual orientation (LGBTQI), and gender identity, including dealing with the coming out/transitioning process and HIV/AIDS
Confidence building and problem solving skills
Cross-cultural issues
Specialist services: As well as her general services Susan has two core areas of specialisation:
Helping parents on their journey – from antenatal to postnatal depression and anxiety, post-traumatic stress after childbirth (birth trauma), attachment and bonding difficulties, Susan is ready to support any parent or couple struggling with adjusting to parenthood.
Sexual orientation, gender identity and support for the LGBTQI community. Having proudly raised a gay son, she is equipped with the tools to support anyone from this community on their individual journey towards leading a healthy, authentic life free from shame, including coping with the coming out or transitioning process.
Susan's professional accreditations include: Member NZAP; PBANZ; Perinatal Mental Health NZ
When can you make an appointment? Susan's appointment hours are Monday to Friday during the day, with several late nights available. Please note: appointments are not available during weekend hours.
Contact Susan today – enquiries are welcome: Call (09) 8464 978 or 021 333 021; or email susangoldstiver@gmail.com