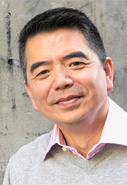 Seng Poh Lee 李成宝
B.Com & Admin, Grad.Dip Bus, Grad.Dip Psychotherapy, Masters Psychotherapy (1st Class), PBANZ, Prov. MNZAP, IARPP.
Location:
Three Lamps Counselling & Psychotherapy Centre, 2 Jervois Rd, Ponsonby, Auckland
Phone:
021 145 5313
Email:
sengpoh.lee@xtra.co.nz
If you feel frustrated, helpless and stuck in life, and have a strong desire to change, I can provide a safe, confidential and non-judgmental space in which you can think, feel and explore your most pressing concerns and distress.
Client Types : Adults
Areas of Interest : Depression, stress, anxiety, grief, relationship difficulties, sexual orientation and sexual identity, cultural, general personal growth, immigration and life transition issues.
Services : Therapy is a great place to discuss the things that cannot be shared with family, friends, or colleagues. It can also be used for personal growth, increasing emotional intelligence, developing coping skills, and creating positive changes in life. I offer short or long term therapy and work with adult clients from all walks of life and cultural backgrounds who are experiencing a wide range of issues and challenges that prevent them from living a more fulfilling and meaningful life.
Approach : My therapeutic style incorporates expert listening, constructive discussion and creating a supportive environment where my clients feel comfortable to talk about their most personal thoughts and feelings. I work collaboratively with my clients to build a trusting relationship where they are able to explore, develop deeper self-awareness and work through issues that are causing distress.
Qualifications : Bachelor of Commerce and Administration (Victoria University of Wellington), Graduate Diploma in Business (Finance) (University of Auckland), Graduate Diploma in Psychotherapy Studies (Auckland University of Technology), Master of Psychotherapy (First Class Honours) (Auckland University of Technology).
Background and Experience : I have worked as a psychotherapist at the Burnett Centre (New Zealand Aids Foundation) and have experience in offering therapy for sexual identity/orientation, emotional and sexual relationship/intimacy difficulties.
My real world experience also draws from living in New Zealand for over thirty years and the understanding of work stressors of professionals in large organisations of different industries, before becoming a psychotherapist.
Having also lived in Asia for a significant part of my life, I am familiar with Asian culture and have experience in working with clients presenting with identity, cultural and migration issues. I am fully fluent in English but can also speak and address some concerns in Chinese if that is more convenient
Transport and Parking : Ample on-street parking available.
Appointments : Weekday appointments available.
Languages : I am proficient in English 英语 and Mandarin 普通话, and can communicate in Cantonese 粤语, Teochew 潮州话 and Hokkien 福建话.
Fees : Individual fees at standard industry rates and payment option are set after discussion at the first meeting.
Enquiries welcome : To make an appointment, please either email me: sengpoh.lee@xtra.co.nz or phone 021 145 5313 and we can set up a time to discuss your needs further.