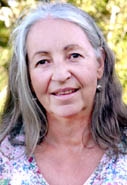 Sarah Hamilton
Diploma of Natural Therapeutics SPCNT, Post Grad Dip Psychotherapy AUT, Post Grad Cert Psychoanalytic Psychotherapy AUT, Registered Psychotherapist PBANZ, EAGALA certified.
Riverhead road, Kumeu
Mobile: 021 477 523
Email:
equitherapy@icloud.com
NB I am presently full, so unable to accept new clients at this time.
Key note statement: When we converse together with non-judgemental curiosity it allows you to hear your own thoughts and feelings, to find your own self-knowledge and then your own solutions to life's ordinary and inevitable difficulties. Most often we don't need to be taught anything new but only to be helped to find what we already know.
Psychotherapy is especially effective when it happens in a relationship where you feel emotionally safe. I gently adapt my approach to suit your needs, respecting that defences are there for a reason. I am equally happy to offer you just a couple of sessions or long term support.
I have over twenty-five years of people helping experience and have been a psychotherapist since graduating from AUT in 1999.
Specialist interest and training:
Relationships, Intimacy and Sexuality: In 2012 I completed the Foundation Course in Sexuality and Intimacy offered by Sex Therapy NZ. I'm interested in early childhood loss or trauma and its effects on attachment, the potential in human relationships, in identifying what interferes with intimacy between people; and in having communication and connectedness replace loneliness and isolation.
Dreams: I'm fascinated with the ability of the unconscious mind to communicate to us symbolically the reality of our wishes, fears and feelings.
Trauma recovery: I have had fifteen years experience specialising in Post Traumatic Stress Disorder and providing sexual abuse counselling.
Body and Mind: In 1987 I graduated from the South Pacific College of Natural Therapeutics as a Naturopath. For many years I helped people learn more about their health and how to become well. I came to understand that symptoms such as physical illness are a 'story' that the body is attempting to 'tell'; listening to your body talk facilitates your wellness.
Professional Qualifications:
Diploma of Natural Therapeutics SPCNT
Post Grad Dip Psychotherapy AUT
Post Grad Cert Psychoanalytic Psychotherapy AUT
Professional Affiliations:
Registered Psychotherapist PBANZ
EAGALA certified
| | |
| --- | --- |
| Fees: | $130 incl gst individuals |
| | $150 incl gst couples |
| Mobile: | 021 477 523 |
| Email: | Email: equitherapy@icloud.com |