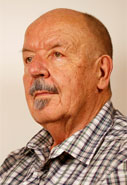 Dr Olli Anttila
Psychoanalyst, Psychiatrist, FRANZCP. Member and supervisor of NZ Association of Psychotherapists, MNZAP, Accredited supervisor for the Psychotherapists Board of Aotearoa New Zealand (PBANZ).
Location : 152 Quay Street, Auckland City
E-mail:
olli@iconz.co.nz
Phone: 021 66 85 44.
We must let go of the life we have planned, so as to accept the one that is waiting for us - Joseph Campbell
Some people don't like change, but you need to embrace change if the alternative is disaster- Elon Musk
Personal history: I was born and grew up in Finland and had my medical and psychoanalytical education at Helsinki University and have been a registered consultant psychiatrist since 1970 and psychoanalyst from 1975. I am a father of three children and one step child and and grandfather of two. I immigrated to New Zealand in 1990 and have been working in full time private practice in Auckland since 1993.
I am a Southern Cross Insurance affiliated provider.
Areas of interest: My main areas of interests are in helping people through crisis times in their life and facilitating their adaptation to emerging new life situations. When I say crisis times, I mean, for example:
Times of relationship break-up
Changes in work situation
Health crisis, for example, physical illness or mental break down/break through.
Retirement crisis, menopause, empty nest
Death of a loved one
Immigration or moving to a new place and job
Awareness of a lifelong sorrow and unhappiness
Dealing with one's self-defeating and self-destructive tendencies
Having wasted your life in unnecessary anxiety and busyness
Problems in intimate physical and mental relationships
Extreme sensitivity and feeling vulnerable, lonely, and raw; different from other people
Unsuccessful or unfinished previous psychotherapies
Being overwhelmed by the future, and the only real anxiety of our time, (the climate change and the threat of a nuclear war)
I am committed to helping people who feel that they were never really able to grow to their full potential or achieve their full capacity.
I am also keen to work with professionals and artists and with people who have some kind of spiritual awareness.
I work with couples and work teams and provide supervision and second opinions for my colleagues.
Fees : My fees are negotiated case by case, from $160 to $520 for one hour session; depending on individual circumstances. Payments via Internet Banking.
Cancellations incur a penalty; full fee for less than 24 hour notice and 50% fee for cancelations within less than a week's notice.
Enquiries Welcome : The best way of contacting me is by e-mail olli@iconz.co.nz or texting or phoning me at 021 66 85 44.