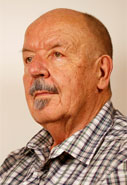 Dr Olli Anttila
Psychoanalyst, Psychiatrist, FRANZCP. Member and supervisor of New Zealand Association of Psychotherapists. Accredited supervisor for the Psychotherapists Board of Aotearoa New Zealand (PBANZ).
Location : Suite 13 A, 125 Quay Street, Auckland City
E-mail:
olli@iconz.co.nz
Phone: 021 66 85 44.
There are only two ways to live your life. One is as though nothing is a miracle. The other is as though everything is a miracle - Albert Einstein
Key Note Statement : I was born and grew up in Finland and received my medical and psychoanalytical education in Helsinki, Finland. I immigrated to New Zealand in 1990 and have been working in Auckland in a full-time private practice since 1993.
I am a Southern Cross Insurance affiliated provider.
Specialisms : My main areas of interests are in helping people through crisis times in their life and facilitating their adaptation to emerging new life situations. When I say crisis times, I mean, for example:
Time of relationship break-up
Health crisis, for example, physical illness or mental breakdown
Spiritual crisis, an awareness of a missed life and the emerging new hope
Empty nest, menopause, retirement crisis
Death or loss of a loved one
Changes in work situation
Immigration or moving to a new place and job
Emerging awareness of a lifelong sorrow or unhappiness
Emerging awareness of one's self-defeating and self-destructive tendencies
Seeing that much of one's life been wasted in unnecessary anxiety and being too busy
Problems in intimate relationships
Extreme sensitivity and feeling lonely and different from other people
Unsuccessful or unfinished previous psychotherapies
My experience is that the plans we have for our life practically never working the way we thought, and life takes unexpected turns and then some therapeutic conversations might be useful.
I am very devoted to helping people who feel that they were never really able to grow to their full potential or achieve their full capacity. I am keen to work with professionals and artists and with people who have some kind of (emerging) spiritual awareness. I also like to work with couples and work teams, often with a co-therapist. I provide supervision and second opinions for other health professionals.
Fees : My fees are negotiated case by case, from $160 to $520 for a session of one hour, depending on individual circumstances and the nature of the consultation. Payments via Internet Banking.
NB. Southern Cross members pay a fixed fee of $300 for the first 90 min session and $200 for the 60 min follow-up sessions.
Cancellations incur a penalty; full fee for less than 24-hour notice and 50% fee for cancellations within less than a week's notice. Rescheduling fee is $40.
Enquiries Welcome : The best way of contacting me is by e-mail olli@iconz.co.nz or texting or phoning me at 021 66 85 44.