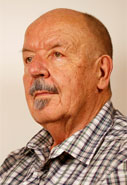 Dr Olli Anttila
Psychoanalyst, Psychiatrist, FRANZCP. Member and supervisor of New Zealand Association of Psychotherapists. Accredited supervisor for the Psychotherapists Board of Aotearoa New Zealand (PBANZ).
Location : Lorne Street, Auckland central city
E-mail:
olli@cure.org.nz
Phone: 021 66 85 44.
Key Note Statement : I was educated in Finland and immigrated to New Zealand in 1990 and have been working in full time private practice in Auckland since 1993. I have been a registered consultant psychiatrist since 1970 and psychoanalyst from 1975.
Specialisms : My main areas of interests are in helping people through crisis times in their life and facilitating their adaptation to emerging new life situations. When I say crisis times, I mean, for example:
Times of relationship break-up
Changes in work situation
Health crisis, for example, illness
Retirement crisis, menopause, empty nest
Death of a loved one
Immigration or moving to a new place and job
Emerging awareness of a lifelong sorrow or unhappiness
Emerging awareness of one's self-defeating and self-destructive tendencies
Seeing that much of one's life been wasted in unnecessary anxiety and busyness
Unsuccessful or unfinished previous psychotherapies
I am very devoted to helping people who feel that they were never really able to grow to their full potential or achieve their full capacity. I am also keen to work with professionals and artists and with people with some kind of spiritual awareness. I also like to work with couples and work teams. I provide supervision and second opinions for my colleagues.
Fees : My fees are negotiated individually, starting from $160 for a 50-minute session.
Enquiries Welcome : The best way of contacting me is by e-mail olli@cure.org.nz or texting or phoning me at 021 66 85 44.