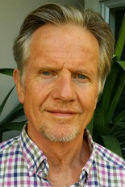 John Bryant
Master of Health Sciences (Psychotherapy) (1st class - Hons), Diploma Psychotherapy, Cert. Advanced Clinical Supervision.
John offers brief and long-term therapy and counselling to individuals and couples that seek to improve thoughts, feelings and behaviours in relation to self and others.
Experience: John has practiced psychotherapy and counselling for over twenty years. This includes private practice, teaching and clinical supervision in a variety of different settings including Segar House, Massey University and Help. He has lectured in violence and trauma studies at MIT and AUT. John's understanding of brain science and psychotherapy inform his goals to be both supportive and effective at helping to relieve suffering. Feel free to call or email if you want more specific information.
Approach: John draws on both his own life experience and his professional training in psychodynamic psychotherapy, Gestalt, interpersonal therapy and mindfulness based CBT to work collaboratively with individuals and couples with relationship problems, anxiety, depression, stress and anger problems. His approach is a blend of compassion and potency all sensitively tailored to the person's specific needs.
Professional Membership: PBANZ
Fees: Individuals: $200, Couples $220.