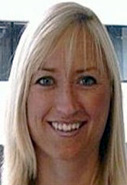 Jenny Hylton
MHSc (Psychodynamic Psychotherapy),
MSc (Developmental Psychology), BSc (Psychology)
Onehunga
jenhyl123@gmail.com
Phone: (09) 622 2017
NB: My practice is full, so currently I am unable to take new clients.
I offer support to individuals who are either not fulfilled in life or in their relationships, or are in crisis. My background in developmental psychology enhances my understanding of the critical aspects of healthy human development at key stages throughout one's lifespan. The areas in which I provide support and facilitate healing are:
depression
trauma and abuse
anxiety
adoption
stress
self-worth
relationship issues (whether these are intimate or professional relationships.)
Comments such as 'get over it', 'time will heal', and 'think positively' are unhelpful when dealing with persistent emotional issues that continuously affect our well-being. Some difficulties have deep seated origins that require some more consideration than simply putting on a happy face.
Have you ever asked yourself 'Why does this keep happening to me?' or felt 'There must be more to life than this!' My focus is to help clients come to a clearer understanding of areas of frustration and dissatisfaction in their lives, and then to support the working through of these issues to a point where clients feel free from the hold such issues have taken on their lives, leaving them more energized, motivated and fulfilled in life.
I believe that life is short and therefore time is precious. Why put off until tomorrow, a process that can improve your quality of life and relationships from today? Our relationships are precious and deserve our effort and attention. For many people, psychotherapy may be one of the most valuable personal investments they will make.
I look forward to hearing from you so we can make a start.