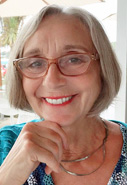 Angelika Schuster
Registered Psychotherapist & Counsellor
Diploma in Psychotherapy (Psychosynthesis)
Diploma in Counselling (Psychosynthesis)
Location

:
Narrow Neck Psychotherapy Clinic, Devonport / Takapuna, North Shore, Auckland
Email

:
angelikaschuster@xtra.co.nz
Phone

:
021 129 6372
Web:
angelikaschuster.co.nz
My passion as a psychotherapist and counsellor lies in walking alongside people to assist them to face the challenges their lives present so that they feel more in control, have more satisfying relationships and lead a more fulfilling life.
My Services:
• Short-term solution oriented counselling
• Long-term psychotherapy
• Couples counselling & therapy
• Systemic family therapy
Experience:
My over 20 years clinical experience includes working in private practice, community based agencies and the public mental health sector. Since 2004 I have solely been working in private practice providing general type counselling/psychotherapy and couples counselling.
Client Groups: Adults, couples
Areas of Specialty:
Self-empowerment and self-esteem, relationship issues and conflict resolution, family and trans-generational issues, trauma recovery, PTSD, depression & anxiety, anger issues, sexual difficulties, work-related issues, crisis and transitions, transpersonal issues, grief and loss, poor body image, dependency issues.
Theoretical Approaches:
I use an integrative approach with the Psychosynthesis model as the 'back bone' of my work. Within that frame, I use a relational approach and strategies from different modalities such as Cognitive Behavioral Therapy (CBT) and Gestalt.
Fees:
Individual counselling/psychotherapy :
$120/$130 per per session
Couples counselling :
$140 per one hour session
$180 per 1 1/2 hour session
Clinic days:
Tuesday to Thursday: 9am until 5pm (with the last appointment at 4pm)
After hours availability:
Monday: From 9am until 8pm (with the last appointment at 7pm)
I welcome enquiries.
Contact Details:
Phone: 021 129 6372
Email: angelikaschuster@xtra.co.nz