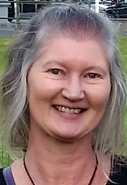 Violet Sherwood
Registered Psychotherapist, MHSc (Hons) Psych; Grad Dip Psyc Soc; Dip Hom (NZ); MNZAP, Cert. Process-oriented Pall. Care. ACC registered.
Sandringham:
The Bungalow, 268 Mt Albert Rd
Raglan:
Please contact for details
Phone: 629 2199 or 021 117 9779 Email:
bronnet@slingshot.co.nz
NB: I'm not currently taking on new clients
Keynote Statement : I believe we all have potential which can be nurtured and developed through the collaborative relationship-focused process of psychotherapy. Psychodynamically trained, my approach is to attend respectfully and compassionately to each person's unique needs and goals and to the therapeutic relationship in which understanding and healing may unfold.
I aim to assist my clients to discover meaning and purpose in life, to understand and relieve emotional distress, and to experience effective and satisfying relationships with others and with themselves in order to live and enjoy life more fully.
I work with adult individuals, and offer short or long term psychotherapy and supervision.
Background : I have twenty five years experience integrating holistic healthcare, private psychotherapy practice, trauma agency work, women's health and tertiary level health/wellbeing education and mentoring. I have a particular interest in creativity and how we can respond to life's challenges in ways that acknowledge and deepen our ability to live creatively.
My clinical experience includes working with grief and loss, trauma, sexual abuse, anxiety and depression, eating disorders, death and dying, creativity and personal development. I also have an interest in infertility and adoption.
Specialist interests : I also offer supervision, mentoring and personal therapy for medical professionals, holistic and wellbeing practitioners, therapists and counsellors and others working in social or health services who experience high stress or relational issues in their work environment. My range of experience and skills includes :
child disability sector
early attachment issues (adoption, premature babies etc.)
transgender support
up-to-date evidence based trauma work
mindfulness skills training
body and energy practices for wellbeing, stress and trauma release
intuition and communication development
palliative care and life-threatening or chronic illness
integration of holistic health support and spiritual practice in the helping professions
self-care and personal wellbeing mentoring
creativity and guidance in creating self-supervision methods
Inquiries welcome : I work in Auckland on Wednesdays and Thursdays only. Skype sessions may be possible other days. Please feel welcome to email or leave me a phone message and I'll respond as soon as I can. NB I am not currently taking further ACC referrals.