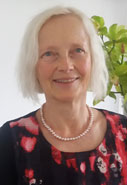 Brigitte Sistig
Registered Psychotherapist, MHSc (Hon), PG Cert Child & Adolescent Mental Health, Cert Adult Teaching, Advanced Counselling Supervision.
Location:
95 Remuera Road, Remuera (Newmarket end)
Phone:
021 113 4171 – please phone me to arrange an appointment.
Email:
brigittesistigpsych@gmail.com
Key Note Statement: If you find yourself having difficulties in your relationships, or are unhappy about where your life is going, then psychotherapy might be a good option for you to try. In my experience, psychological therapy can be a process that leads to new understanding and more effective ways of responding to difficult situations. When honouring our body, mind and spirit, inner wisdom emerges and clarity arises. Learning new skills and strategies help us move forward towards growth and well-being.
Specialisms: I support adults in short-term to medium-term therapy, as well as some long-term work. I often work with a broad range of issues, such as personal growth, depression, anxiety, stress, self–esteem, grief/loss, identity issues, life transitions, relationship issues, and inter-generational trauma. I also offer supervision and professional support to health professionals.
Approaches and Modalities: My approach is holistic and tailored to meet the needs of the individual within your social and cultural context. This includes learning about your internal experiences, your life story and present circumstances. My intention is to offer you psychological well-being recommendations, which may include psychological or psychosocial interventions.
Modalities I work with are: Talking therapy, Cognitive behavioural therapy (CBT), Dialectical behavioural therapy (DBT), Mindfulness-based interventions (MBI), Mind/body therapy, Psychodynamic psychotherapy, Attachment theory, Ecopsychology, Inter-generational & trauma therapy.
Experience: I have over 20 years of experience in counselling and psychotherapy in private practice and government mental health agencies as well as NGOs and community counselling agencies in New Zealand. One of my specialty areas is working with a mind/body therapy focus. I also offer mindfulness-based interventions, psycho-education and family support.
Professional Membership: Full member New Zealand Association of Psychotherapists (MNZAP), Registered with Psychotherapy Board (PBANZ #266).
Practice location: 95 Remuera Road, Remuera : Corner of St Marks Rd, walking distance to Newmarket and on bus routes.
Appointments: Tuesdays and Thursdays.
Enquiries Welcome: To book an appointment or find out more about psychological therapy, you can email me brigittesistigpsych@gmail.com, or contact me directly on my mobile 021 113 4171. Please leave a message and I will return your call promptly.