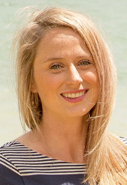 Aimi (Tipton) Weaver
Registered Psychotherapist (PBANZ), Bachelor of Arts Psychology and Sociology, Graduate Diploma Psychosocial Studies, Masters of Psychotherapy, Certificate in Dialectical Behavioural Therapy Skills (DBTNZ)
NB: I am no longer running anger management groups but I still offer individual programmes. Please contact me for further information.
Experience: I have experience working with a wide range of problems, issues and diagnoses, including all aspects of relationship difficulties, interpersonal struggles, grief and loss, depression, post/pre-natal depression, anxiety and trauma. Also for the past four years I have developed and run a successful Dialectical Behavioural Therapy Skills group in a variety of community based facilities.
Specialty: I specialise in working with people to develop a strong sense of self and understanding any recurrent negative patterns, which get in the way of living a full and successful life. These include, but are not limited to, anger, anxiety, stress, family dynamics, post/pre-natal depression, trauma, sexual-abuse and identity issues.
Approach: My approach is interpersonal psychotherapy with some interpretive qualities. This involves working together to develop a strong working relationship that can encourage the onset of new growth and learning.
Enquiries: Please contact me for further information or an individual anger management programme.